New room gategory added, new pictures added to rooms gategories, take a look to see  the guest rooms : http://bluebirdinn.eu/?group=rooms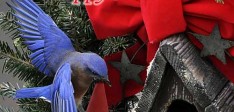 Bluebird Inn wishes to thank all of our clients for the year 2015 and wish to you all A Merry Christmas and A Happy New Year 2016 (2559)!
We have changed windows for 6 more rooms to Double glazed windows to make rooms more comfortable. New windows will reduce noise from outside and also save energy for air conditioning. Now we have totally 12 rooms equipped with double glazed windows.